Kindle Oasis: Amazon finally launches a water resistant e-reader Amazon's Kindle finally goes water resistant with the new Oas...
Kindle Oasis: Amazon finally launches a water resistant e-reader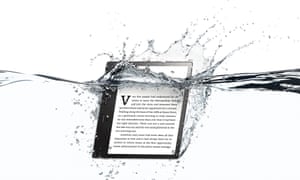 Kindle Kindle Oasis: Amazon finally launches a water resistant e-reader
Premium device switches between ebooks and audiobooks and comes with Bluetooth, longer battery life and aluminium design to tempt readers
Amazon's Kindle is finally water resistant, with the launch of the new larger 7in Kindle Oasis that merges ebooks and audiobooks into one device.
Ah ead of the 10th anniversary of the original Kindle in November, the new top-end device aims to lead Amazon's e-readers into the next decade with a new aluminium design, longer built-in battery life and a larger, brighter screen.
Eric Saarnio, head of Amazon devices in the EU said: "It has a 7in screen, an inch larger than any of our recent devices, and is also the highest resolution with 300ppi screen density, meaning we can fit around 30% more words on the screen per page, which means customers have to turn fewer pages."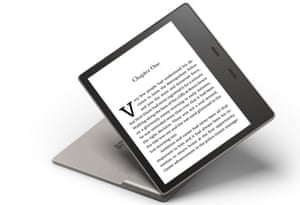 The new Kindle Oasis improves on the luxury version of Amazon's e-reader line from last year with the addition of an ambient light sensor to adjust the front light, which has an increased number of LEDs and is now more evenly spread. The Oasis is also now water resistant to IP8X standards, which means it will survive dunks in depths of up to 2m in water for up to 60 minutes, and has integrated Bluetooth connectivity for hooking up wireless headphones or speakers.
The Kindle's rivals, including Kobo, have had water resistant versions of their e-readers since 2014, but have failed to disrupt Amazon's dominance of the ebook market.
The big new feature for the Oasis is the integration of Amazon's Audible audiobook service, the first time for a Kindle device, which allows readers to seamlessly switch between audiobooks and ebooks, maintaining their position in the story if they own both formats of a particular book using the Whispersync f or Voice service.
Saarnio said: "I'll end at an ebook page at home, take my Kindle Oasis into the car, pair it via Bluetooth and then hit play and it picks up the audiobook right where I left off in the ebook. I can then roll through a couple of chapters in the audiobook on the commute, then take the device back home and flip back to ebook mode, and it knows exactly which location I left off to start reading again."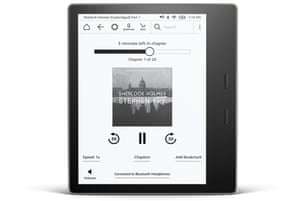 Amazon s ays that its Audible users downloaded 2bn hours worth of audiobooks in 2016 and on average listened to two hours of audiobooks per day. The service has 250,000 audiobooks available for download on an ad-hoc or subscription basis, but one proviso of the integration is that customers buy both the ebook and the audiobook of the same book. For those who already own the ebook, Amazon will sell them the audiobook for £2.99 instead of the usual £14.99 or so without a subscription.
Amazon has also increased the number of customisation options available on the Oasis, including more type faces, a greater level of boldness gradation and font sizes and the ability to left-align text to better match the design of paper books. The new Kindle also has improved accessibility features including the ability to invert the screen from black text on white screen to white text on a black screen, and the ability to increase the size of key menus and the home screen for easier navigation for parti ally sighted readers.
The new Kindle Oasis ditches the battery cover of last year's device, which was needed to give it good battery life. Instead the new device has six weeks of battery built into it, according to Amazon, and a range of new covers including water resistant fabric options.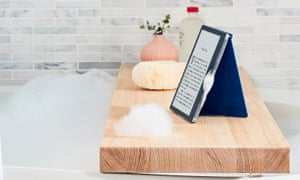 The 2017 Kindle Oasis will be available in two storage options: 8GB costing £230 and 32GB costing £260. The 32GB versi on will also be available with a 3G connection for £320, which can be used within more than 100 countries.
Increased size and boldness of text, and the option of a left-aligned mode, will also be available as a software update for all Kindles from the 2013 Paperwhite and newer.
Amazon Kindle Oasis review: the luxury e-reader really is something special

Topics
Amazon
E-readers
Gadgets
Ebooks
Audiobooks
news
Share on Facebook
Share on Twitter
Share via Email
Share on LinkedIn
Share on Pinterest
Share on Google+
Share on WhatsApp
Share on Messenger
Source:
Google News