More than 20000 underage girls 'married every day'


More than 20,000 underage girls are married every day, new figures have revealed, prompting urgent calls for authorities to protect the children.
Research by the Save the Children charity and the World Bank found that even in countries where there are laws restricting the practice, around 7.5 million girls are married illegally ever year.
A further 100 million girls worldwide are not protected against child marriage under their country's laws, putting them at even greater risk, the study found.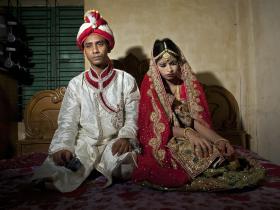 One girl under 15 is married every seven seconds
On the International Day of The Girl Child, both Save the Children and the World Bank called for every country to make 18-years-old, the legal age f or marriage.
They said the disconnect between national, customary and religious laws helped to facilitate child marriages. Traditions and beliefs mean that community leaders still supported the practice too often, they added.
Legal action was urgently needed to bring an end to the practice, along with implementing strategies that could help to shift attitudes to child marriage on both a local and national level.
Many of the countries with the highest rates of child marriage are in Central and West Africa, where 1.7 million girls below the national minimum age limits are married each year.
Simona Sikimic-French, who has been working in Senegal with young girls that were forced into marriage, told The Independent: "When you're married off at such a young age the impact is huge. As soon as you're married you have to drop out of school. If you drop out of school aged 12 or 13 you just don't really have any options.
"The younger you are the worse it is for your mental and physical health. If you have a baby younger, you risk a whole host of complications and issues which are difficult to fix. Often the babies also tend to be less healthy."
Ms Sikimi- French added that child marriage as caused a "huge spiral" of damage both to girls' lives and to the communities they live in.
"If you're traumatising girls at such a young age, depriving them of education and forcing them to have large number of children, then obviously that's going to have a detrimental effect for everyone," she said.
World news in pictures
World news in pic tures
1/43 9 October 2017

A supporter of the opposition National Super Alliance (NASA) wears oranges during a protest calling for the sacking of election board officials involved in August's cancelled presidential vote, in Nairobi, Kenya

2/43 8 October 2017

Palestinian and Israeli women march, as part of an event organised by "Women Wage Peace" group calling for an end to the Israeli-Palestinian conflict, near the Jordan River, in the occupied West Bank

3/43 6 October 2017

A woman stands on the stairs outside the Administrative Court in Athens as she takes part in a protest against planned pension cuts

4/43 5 October 2017

Members of Indonesia's special forces Kopassus march during celebrations for the 72nd anniversary of the Indonesia military, in Cilegon, Indonesia Banten province

5/43 4 October 2017

People look on as boats participating in Clipper Round the World Yacht Race leave Punta del Este harbour in Uruguay

6/43 2 October 2017

Smoke billows from buildings following a reported air strike on Ain Tarma in the Eastern Ghouta area, a rebel st ronghold east of the Syrian capital

7/43 1 October 2017

Firemen try to hold a group of people in front of Spanish Civil Guard officers outside a polling station in San Julia de Ramis on the day of a referendum on independence for Catalonia banned by the Spanish government. More than 5.3 million Catalans are called today to vote in a referendum on independence, surrounded by uncertainty over the intention of Spanish institutions to prevent this plebiscite banned by justice

8/43 30 September 2017

Catalan regional police (Mossos d'Esquadra) arrive to the IES Tarradell school to notify its principal that the school must remain closed, in Barcelona. Hundreds of people have spent the night in different schools and civic centers designated by the regional Government to be polling stations for the '1-O Referendum' in an attempt to prevent the police from stopping their use, as the Superior Court of Justice of Catalonia ordered

9/43 29 September 2017

An Indian police officer chases Shi'ite Muslim mourners as they run after they tried to participate in a Muharram procession ahead of Ashura, in Srinagar

10/43 27 September 2017

Ugandan opposition lawmakers fight with plain-clothes security personnel in the parliament while protest ing a proposed age limit amendment bill debate to change the constitution for the extension of the president's rule, in Kampala

11/43 26 September 2017

Military and local security personnel keep Rohingya refugees in line as they queue for aid at Cox's Bazar, Bangladesh

12/43 24 September 2017

Cliff Marisma of Australia and Per Estein Prois-Rohjell of Norway compete in the World Jousting Championships in Sydney, Australia. The World Jousting Championships sees Australia's best jousters go head-to-head with their international counterparts. The Championship aims to replicate the same combat conditions that fe atured in 15th century Europe, with knights wearing historically accurate armour weighing around 40kg.

13/43 23 September 2017

Freshmen students of Nanning College for Vocational Technology balance bottles on their heads during their military training in Nanning, Guangxi Zhuang Autonomous Region of China.

14/43 22 September 2017

A fighter from the Free Syrian Army (Al-Hamza Brigade) is seen looking out in Hazwan town in Aleppo

15/43 21 September 2017

Protesters burn an effigy of President Rodrigo Duterte during a day of protest outside the presidential palace in Metro Manila, Philippines

16/43 20 September 2017

A crowd of protesters lift up a ballot box outside the Catalan region's economy ministry building after junior economy minister Josep Maria Jove was arrested by Spanish police during a raid on several government offices, in Barcelona

17/43 19 September 2017

Myanmar State Counselor Aung San Suu Kyi walks off the stage after delivering a speech to the nation over Rakhine and the Rohingya exodus, in Naypyitaw, Burma

18/43 17 September 2017

Rohingya refugees wait for aid packages in Cox's Bazar, Bangladesh

19/43 16 September 2017

Riot police line up behind their shields following a clash with demonstrators demanding the resignation of congressmen outside the Guatemalan National Congress, in Guatemala City. Guatemala's congress early this week voted overwhelmingly to reject a UN-backed request to lift the immunity of President Jimmy Morales in order for him to face a corruption probe over irregular party financing

20/43 13 Sept ember 2017

Members of the International Space Station (ISS) expedition 53/54, US astronauts Joseph Akaba (L) ,Mark Vande Hei (R) and Russia's cosmonaut Alexander Misurkin attend a sending-off ceremony in the Russian-leased Baikonur cosmodrome in Kazakhstan

21/43 12 September 2017

A resident pushes his cart as he wades a flooded main street in Manila after a tropical depression locally named "Maring", hit the eastern town of Mauban before moving northwest across the main island of Luzon and passing just beside Manila

22/43 11 September 2017

Soldiers in Japa n's Self-Defence Force prepare for a ceremony for Prime Minister Shinzo Abe at the Defense Ministry in Tokyo

23/43 10 September 2017

A truck of a courier overturned by the storm in Livorno, Italy. The storm has claimed six victims with six others missing. Over 200 mm of rain has fallen causing landslides, mudslides and the flooding of various rivers

24/43 9 September 2017

The picture released from North Korea's official Korean Central News Agency (KCNA) shows North Korean residents offering flowers before the statues of Kim Il-Sung and Kim Jong-Il (R) on Mansu Hill in Pyongyang during celebrations of the 69th an niversary of North Korea's national day

25/43 8 September 2017

People gather on a street after an earthquake in Mexico City

26/43 7 September 2017

Rohingya refugee children sit in a hut next to the shore after crossing the Bangladesh-Myanmar border by boat through the Bay of Bengal in Teknaf, Bangladesh

27/43 6 September 2017

Police patrol the area as Hurricane Irma slams into San Juan, Puerto Rico

28/43 5 September 2017

A masked witness points to the police officers suspected of killing 17-year-old Kian delos Santos as she testifies during a senate hearing in Pasay, Metro Manila, Philippines

29/43 4 September 2017

(L-R) Brazil's President Michel Temer, Russian President Vladimir Putin, Chinese President Xi Jinping, South Africa's President Jacob Zuma and Indian Prime Minister Narendra Modi pose for a group photo during the BRICS Summit at the Xiamen International Conference and Exhibition Cente rin the Fujian province

30/43 3 September 2017

This undated picture released by North Korea's official Korean Central News Agency (KCNA) shows North Korean leader Kim Jong-Un (C) looking at a metal casing with two bulges at an undisclosed location. North Korea has developed a hydrogen bomb which can be loaded into the country's new intercontinental ballistic missile, the official Korean Central News Agency claimed on 3 September. Questions remain over whether nuclear-armed Pyongyang has successfully miniaturised its weapons, and whether it has a working H-bomb, but KCNA said that leader Kim Jong-Un had inspected such a device at the Nuclear Weapons Institute.

31/43 2 September 2017

A girl looks on as muslims offer prayers during the Eid al-Adha festival in Agartala

32/43 2 September 2017

A cyclist looks at a truck flipped into floodwater in Port Arthur, Texas

33/43 1 September 2017

People attend prayers for the Muslim holiday of Eid Al-Adha at Istiqlal Mosque in Jakarta, Indonesia

34/43 31 August 2017

U.S. Marine Corps F-35B fighter jets (front) and South Korean air Force's F-15K fly over South Korea during a joint military drill

35/43 30 August 2017

Pope Francis is greeted by pilgrims as he arrives to lead his Wednesday general audience in Saint Peter's square at the Vatican

36/43 29 August 2017

Retiring paramilitary policemen prepare for a group photo before retirement in Nanjing, Jiangsu province, China

37/43 28 August 2017

The sun sets on the playa as approximately 70,000 people from all over the world gathered for the annual Burning Man arts and music festival in the Black Rock Desert of Nevada

38/43 27 August 2017

A member of Border Guard Bangladesh (BGB) tells a Rohingya girl not to come on Bangladesh side. Thousands of people have fled their homes following two days of violence in a deepening crisis in the state of Rakhine in Myanmar. Members of the Muslim Rohingya minority escaped to the border with Bangladesh but Bangladeshi border guards are turning them back.

39/43 26 August 2017

100 newlyweds wearing Han Dynasty style outfits attend a group wedding in Pingdingshan, Henan province of China.

40/43 25 August 2017

Protesters block rail tracks during a demonstration of "Ende Gelaende" activists against the open cast Garzweiler brown coal mining near Vanikum, Germany.

41/43 24 August 2017

Italian Police use a water cannon as they clash with refugee squatters who had occupied a small square in central Rome

42/43 24 August 2017

Thailand's Patsapong Amsam-ang competes in the men's pole-vault athletics final of the 29th Southeast Asian Games (SEA Games) at the Bukit Jalil national stadium in Kuala Lumpur

43/43 23 August 2017

A child reacts after a big wave on a waterfront as Typhoon Hato hits Hong Kong
Director of Policy, Advocacy and Campaigns at Save the Children Kirsty McNeill said: "We will not see a world where girls and boys have the same opportunities to succeed in life until we eradicate child marriage.
"Laws banning the practice are an important first step. But millions of vulnerable girls will continue to be at risk unless child marriage is tackled head on. We need to change attitudes in communities so that we can end this harmful practice once and for all."
She added: "The longer a girl stays in education, the more likely it is that she grows up healthy, secures a livelihood and has healthy and educated children of her o wn."
The revelations came ahead of a conference on bringing an end to child marriage in Senegal later this month.
Sie Koroma, Sierra Leone's first lady, said she hoped the meeting will bring greater understanding of what drives the practice and what can be done to stop it.
"We intend to build a platform where we will be sharing our successes and challenges in the implementations of policies and programmes in ending child marriage," she said.
More about:
child marriage
Save The Children
Reuse contentSource:
Googl e News