Nazanin Zaghari-Ratcliffe's husband meets Boris Johnson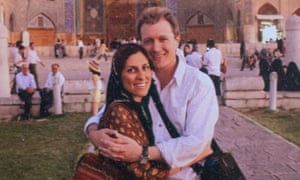 Nazanin Zaghari-Ratcliffe Nazanin Zaghari-Ratcliffe's husband meets Boris Johnson
Richard Ratcliffe says that in 'constructive' meeting with foreign secretary he pressed for diplomatic protection for his imprisoned wife

The husband of the jailed British-Iranian mother Nazanin Zaghari-Ratcliffe has described his hour-long meeting with Boris Johnson as "positive and constructive†.

Richard Ratcliffe said the foreign secretary had no fixed date for his planned visit to Iran, but that he was keen for him to travel with him.

Ratcliffe told a press conference after the meeting that he had pressed Johnson to give diplomatic protection to his wife, who has been imprisoned in Iran since April 2016. The Labour MP Tulip Siddiq, who accompanied Ratcliffe to the meeting, said Johnson had not ruled out such a move.
Iran appears poised to reject any UK proposition to grant Zaghari-Ratcliffe diplomatic protection, a move her family seeks in order to escalate her case from a consular issue to a state matter.
Iran signalled earlier on Wednesday that it would not countenance such a step because it does not recognise dual nationality. Tehran, which treats Zaghari-Ratcliffe solely as an Iranian, has indicated any such move would trigger a severe reaction.
The Irna state news agency, which reflects the views of the Iranian establi shment, carried an article saying that the principle of giving her diplomatic protection, even if it did not extend to diplomatic immunity, was fundamentally impractical.
Johnson's face-to-face meeting with Richard Ratcliffe was the first such meeting since his wife was jailed.
Zaghari-Ratcliffe is in Tehran's notorious Evin prison, serving a five-year jail sentence on charges of spying and trying to topple the Iranian establishment. Her case has drawn huge attention in the UK since Johnson mistakenly said earlier this month that she was training journalists in Iran, despite her family insisting she was there on holiday with her daughter.
Iran's response to the idea of diplomatic protection came in the form of an Irna interview with an anonymous Iranian international law expert, but the gravity of the matter indicates it also reflected the official view.
The Iranian source told Irna: "According to certain British newspapers, Zaghari's husband had referred to some legal advisers to investigate the possibility of such a move; and evidently, some of the advisers have approved of the move.
"But, as it turns out, they have not paid attention to the fact that the principle of political protection is applicable to the citizens of the protecting country; thus, in as much as, Zaghari has dual British-Iranian citizenship, and Iran doesn't recognise her British citizenship, the principle is fundamentally impractical."
Downing Street said on Monday that the UK government was considering the possibility of giving Zaghari-Ratcliffe diplomatic protection to help secure her release. The idea was initially proposed by her husband and discussed with Johnson.
The Free Nazanin campaign said on Wednesday that diplomatic protection served as a recognition of the severity of the case and the stage the case had reached. It said the family were pursuing the matter because her detention constituted an "international ly wrongful act", because local remedies had been exhausted, because she was "predominant British nationality" and quiet diplomacy had failed to yield a result.

Giving diplomatic protection is not the same as diplomatic immunity, under which diplomatic and consular staff cannot be prosecuted. It is a state-to-state mechanism under which a matter is moved beyond the usual consular level to a position where the state making the move is formally seeking redress over an issue.
The Iranian expert told Irna: "In Iran's view, Zaghari is an Iranian citizen, and was tried, due to her illegal actions, and convicted in Iranian courts; and now she is serving her sentence. Hence, the UK's interference, other than through the peaceful paths and humanitarian issues, is considered an intervention in Iran, and will [naturally] trigger off Iran's severe reaction."
"It seems, regarding the political history and sensitive relations between the two countries, putting forward the suggestion, which is in Iran's view basically out of the question, will change the issue from a case between Iranian government and an Iranian national into an issue between Iran and a foreign country," the legal expert said.

Zaghari-Ratcliffe, 38, is a British-Iranian dual national who has been jailed in Iran since April 2016. The Revolutionary Guards, the elite forces that arrested her at the airport, have accused her of attempting to orchestrate a "soft overthrow" of the Islamic Republic. She and her young daughter, Gabriella, were about to return to the UK from Iran after a family visit.
Since then, she has spent most of her time in Evin prison while Gabriella, three, has been in the care of her mother's Iranian family, who are only able to visit her during regular prison visits.
Discussions have been complicated by Iran's irritation that in the wake of Sunday's earthquake at its border with Iraq, the deadliest in the world this year, people in the UK, especially Iranians living here, are not able to transfer any aid money through banks.
The Guardian understands that the Iranian embassy has been inundated with complaints in the past two days from people who have said there seemed to be no official way of transferring aid money to Iran. No UK bank currently handles Iranian payments, leaving the job to unreliable and unofficial money exchanges.
The diplomatic protection issue was due to be explored at Johnson's meeting with Ratcliffe, the Foreign Office said.
"The foreign secretary has sought advice from officials to determine whether conferring the status could help, including what impact it would have on the support currently being provided and the representations already being made on Mrs Zaghari-Ratcliffe's behalf," a statement read.
"The Foreign Office remains very concerned about all our dual nationals detained in Iran and is doing everything it can in each of their cases, including trying to secure access to them and ensure their welfare."
Topics
Nazanin Zaghari-Ratcliffe
Share on Facebook
Share on Twitter
Share via Email
Share on LinkedIn
Share on Pinterest
Share on Google+
Share on WhatsApp
Share on Messenger
Source:
Google News