Snow blankets parts of UK as Storm Caroline leaves Arctic chill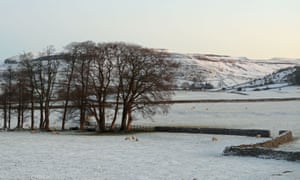 Weather Snow blankets parts of UK as Storm Caroline leaves Arctic chill
Highlands, Northern Ireland and Wales wake up to wintry scenes, with forecasters predicting 20cm could fall in some areas
Parts of Britain have woken up to a blanket of snow as forecasters warned up to 20cm (8in) could fall in some places.
Storm Caroline, which brought 90mph winds to parts of northern Scotland, left an Arctic airflow in its wake, with temperatures plunging across the UK.
About 8cm of snow had fallen in Aviemore, the Highlands, by dawn on Friday, while parts of Northern Ireland, Wales and areas to the west of the Pennines had also been blanketed.
Forecasters said snow showers were likely to become more widespread throughout the day. A yellow weather warning was in place for ice and snow across much of Scotland, Northern Ireland, Wales and parts of northern and western England.
A Met Office meteorologist, John West, said: "We saw a fairly consistent stream of snow showers overnight, and there will be a constant feed throughout the day and into Friday.
"We could see some fairly significant accumulations. Broadly speaking we're looking at 2-5cm, but in more exposed areas we could see 10-20cm.
"It will also be bitterly cold, with highs of 2C or 3C outside those snow showers. But the wind chill is going to make it feel subzero."
The weather in November Read more
Cold temperatures are likely to remain well into next week, with forecasters also warning there could be heavy snow showers on Sunday.
A yellow weather warning for snow has been issued for central parts of the UK from 4am on Sunday until just before midnight.
The wintry weather comes after Caroline left thousands of homes in Scotland without power on Thursday.
Many train services were suspended or delayed as a result of the weather conditions and ferry services were disrupted. Some flights in the Western Isles were cancelled.
Very strong winds were expected to continue through Friday with gusts of 70mph to 80mph, especially over Shetland.
Some schools were shut in the Highlands for a second day.
Topics
Share on Facebook
Share on Twitter
Share via Email
Share on LinkedIn
Share on Pinterest
Share on Google+
Share on WhatsApp
Share on Messenger
Source:
Google News